Requirements
— Al Davis, Director of the Environmental Services Division of the City of Auburn, Alabama, was interested in a vehicle tracking system to monitor their vehicles and have the ability to verify route schedules.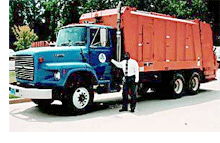 Benefits
— For the first time, the City has an accurate means of monitoring vehicle activity.
— Conflicts are avoided concerning solid waste pick-up since "The Boss" provides route verification.
— "The Boss" system is compatible with the City's GIS system which now gives them very accurate stop locations.