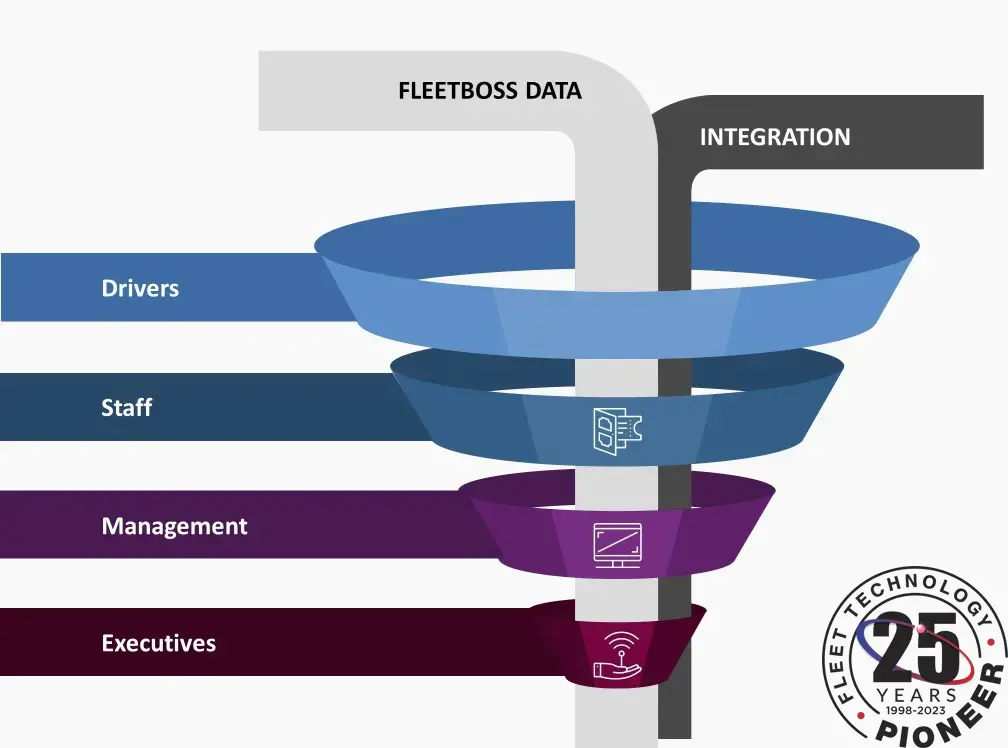 FOCUSED-TARGETED-POSITION SPECIFIC
Every organization's position-specific needs and goals are unique.  From driver to senior executives to mid level staff and management.  FleetBoss empowers nearly every role in business with rich data.
Operations for real time dispatching automated maintenance, routing and improved customer services.
Human Resources for payroll, safety and reducing company liability.
Management for strategic reports, productivity analysis and  big picture data at a glance.
No matter the department or position, Fleetboss provides the real data for better productivity, operations and safety. And then we can show you how to use it.
Ready To See Us In Action?
Fleet Technology Integration for All
Where to Begin? FleetBoss makes it easy with your choice of Essential, Enhanced or Integrated levels of fleet management technology for your business. No matter the size, department or position, FleetBoss provides the real data for any organization. And then we show you how to use it.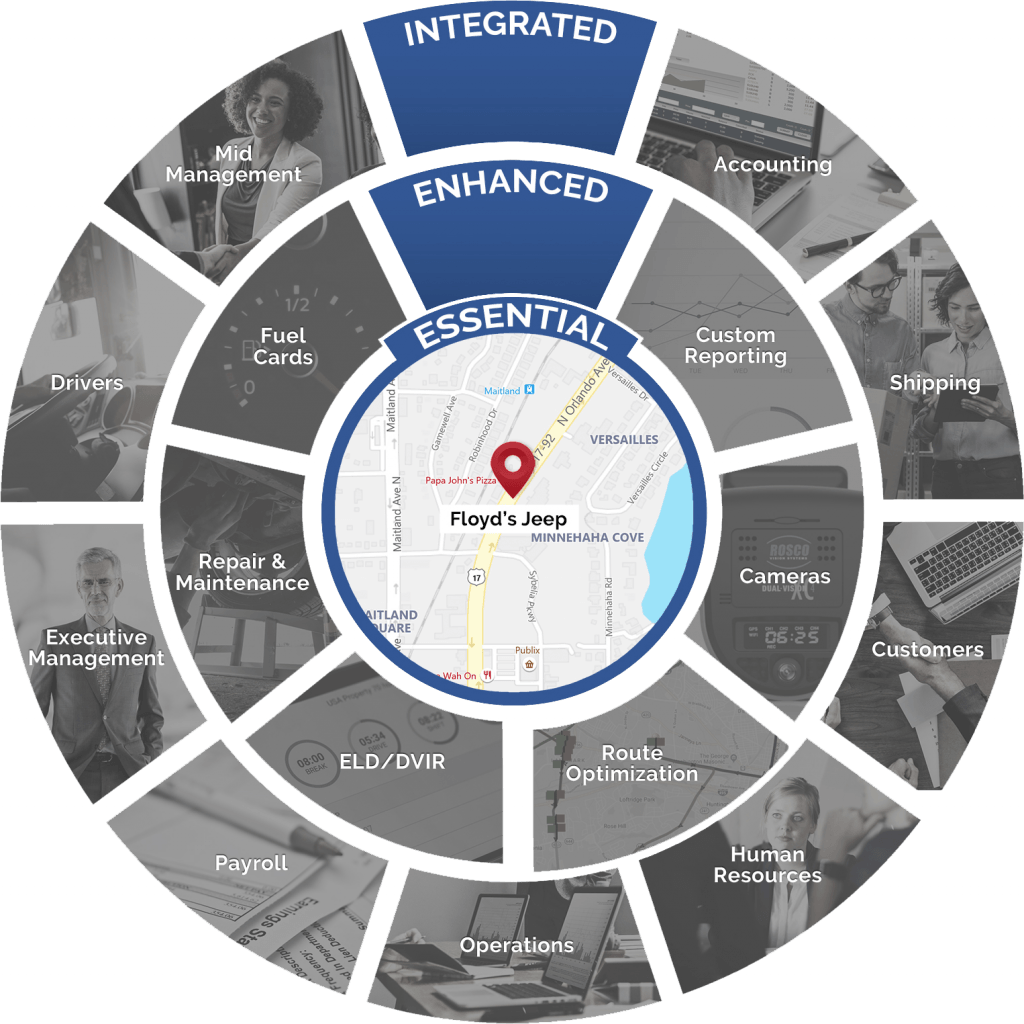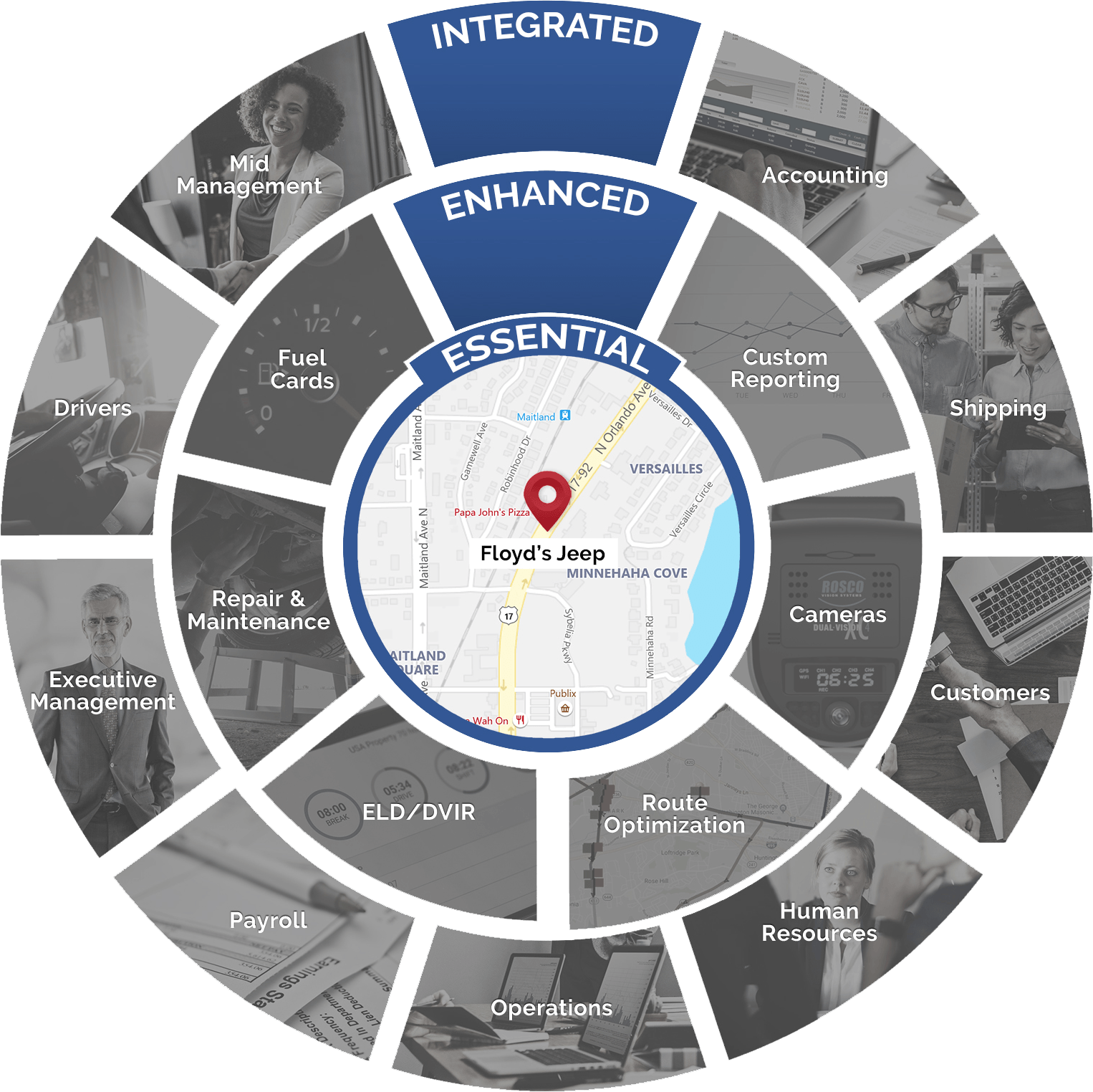 Fleet reporting for filtering down to details
It begins here. Rich location, trip, time, idling, speed and accountability data become accessible for the first time. All FleetBoss telematics solutions offer core vehicle information including location, trip history, idle, time and many operational saving reports. You'll select from an award-winning agnostic product portfolio offering your choice of entry level, enriched or integrated solutions. Choosing which type of GPS telematics system is your first 'essential' decision.
Beyond basics, many organizations leverage a given technology's advantages when provided the opportunities and resources to do so. FleetBoss answers these needs with an 'Enriched' portfolio of solutions featuring expanded and customizable benefits. Enriched solutions introduce the use of diagnostics (maintenance), seat belt monitoring and cameras (safety), power-takeoffs, thermal, customized KPIs, driver ID, hours of service (EDL), enhanced (real time) tracking and much more.
Fleet Dashboards providing digestible data
Trends | Averages | Graph | Pie Chart | Ranking | Usage | Violations | Custom Rules
Hierarchal Grouping to Match Your Organizational Structure
Security | Group Set-Up | Vehicle Assignments | Driver ID | User Set-Up | Enterprise
Fuel Card integration to monitor fuel purchase with location verification
Fuel Transaction | Gallons | Location | Usage | MPG | Efficiency
Vehicle inspection Reporting to help extend the life of your asset
Using the Data-Rich Analytics
An integrated FleetBoss solution has nothing to do with the data collected yet everything with who and how it is used. From company managers to entry level clerks, drivers to senior executives, a truly integrated FleetBoss solution crosses departments, divisions and titles. Integrated means rich data accessed, analyzed and perfected for use to achieve important organizational goals.
FleetBoss has over two decades of experience consulting and integrating comprehensive business analytics and technology solutions into service, manufacturing, municipal and retail workforces of all sizes nationwide. In 1998, FleetBoss asked if you could ride in your company vehicles 24 hours a day 7 days a week, would your employees be more productive? Today, with an Integrated FleetBoss solution, the answer is yes.
And more.
An exclusive service engaging award-winning fleet technology with your organization targeting position-specific level use and goals. An Integrated level of service is a professional, consultative process managed by a FleetBoss veteran developed by over twenty years of telematics field and deployment experience. FleetBoss will integrate the unique needs of your business with the perfect combination of cutting-edge technologies, strategic data collection, custom reporting and specific, goal-focused processes.