"I can no longer imagine having my vehicles on the road without The Boss on board."
Doyle Depriest
American Speedy Printing Center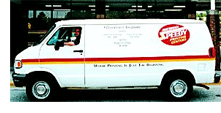 Requirements
Doyle Depriest, owner, wanted to enhance efficiency and safety of the company's delivery vehicles using modern fleet management technology.
Benefits
— Savings in fuel costs due to reduction in speed and idling times.
— Increased operator awareness of driving habits, thus increased safety.
— Reports to improve delivery schedules.
— Greater employee integrity.
— Accurate verification of time and date of delivery.